I have to admit that Brazilian food is a cuisine that I have not properly explored. As a food writer and photographer, that is an absolute fail. So I am on a mission to fix that. Enter Berimbau. This is a very cute little Brazilian restaurant that I saw was offering delivery to my apartment. A quick scan of the menu and I made a commitment to visit the restaurant in person to experience it first-hand in person before sitting back and having the food come to me. Besides, food piping hot and straight from the kitchen is the best way to experience food.
Delivery may bring convenience but the restaurant experience is something that cannot be replaced and I hope does not go away with the many restaurants having to resort to that to make ends meet. In my quest to get there, I ended up in the wrong restaurant! There was a small vegan restaurant, Urban Vegan Kitchen, that I walked into and definitely left me with disappointment since it was their "brunch" menu. After the meal, I came to the summary that I loved this place for a variety of reasons including how incredibly friendly my waiter was. There were a number of Brazilian people present as well speaking Portuguese and I always take that as a sign of a great restaurant since the locals want to visit. Full disclosure though, bring a friend because the portions are huge!
From the drinks menu, they have quite the extensive caipirinha drink menu and I had every intention of having three. However, the 2nd one that I had (Nico's heart) put an end to that mission. The first that I had was the Guava caipirinha. It had more of a natural sweetness vs additional artificial sweetness which I very much appreciated. The amount of alcohol in this was also just right preventing any immediate headache that I sometimes get from cocktails with hard liquor. The second caipirinha however did not have that same effect on me. Let me start by saying that I felt Nico's heart was better in complexity of ingredients and flavor for the most part but it was just far too strong for me. The mezcal in the drink was quite pronounced. There was also passion fruit and lime which I assume was supposed to offset the mezcal. I found it interesting that the passion fruit and lime had equal presence on the palate as lime usually overpowers everything it is added to as far as cocktails go in my experience
This is a tradition Brazilian dish, Pao de queijo. It is cheesy Brazilian bread made with tapioca, Parmesan and farmer's cheese. Considering the two cheeses, there was the expected richness in flavor but the Parmesan was definitely the standout. The texture was chewy which was unexpected as I thought it would be softer. This is my first time having this dish so it was certainly a surprise. There was no added salt on the taste and the Parmesan was the powerhouse in that regard. They were piping hot when they came out but I found them to taste even better as they cooled down. They sell these frozen as well and while I did not order any this time, I most certainly will the next time I visit.
The next dish that I got was the shrimp empanada and it was HOT coming straight from the fryer. I had wanted the chicken croquettes but they had run out. I got there really early so the fact that they were already out was a strong signal to me that a return visit was necessary to taste that. The empanada was served with an aioli with chives. On texture, the crust was slightly crunchy but still had a softness to it. With the aioli, it was a nice bite but in all honesty, I preferred it plain as there was just a natural richness to it. I may be a bit partial to eating items in a dish solo though as I personally feel that every component of a dish should stand well on its own. That said, when I got a taste of the shrimp, crust and aioli all together, that was a magical bite.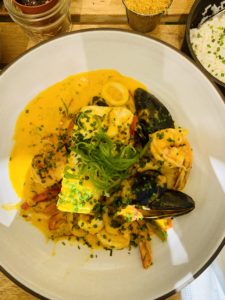 This is Moqueca Banana, a seafood stew of halibut, shrimp, calamari and mussels in a broth of coconut milk and palm oil. There was also a side of yuca flour which I believed had been prepared in some way given its texture. The sauce was incredible as that merge of seafood flavors of different kinds with the cream of coconut was unbearably delicious. I had been attempting to reverse my covid weight gain by avoiding carbs and I figured what damage would a fork or two of rice cause… I ate the entire thing. There is just something about the sauce and the rice together that enhances the flavor. Generally, for me with dishes, I do not notice a difference with the addition of the rice but this time I did. So in this case, my advice is to forget your diet for awhile.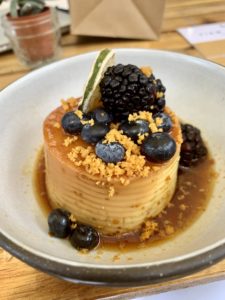 I had not had flan in quite a while so when I saw it on the menu, I knew that I absolutely had to order one. I was actually surprised to see it on the menu as I never realized that flan was a dish native to Brazil. It is actually called Pudim. When it was placed in front of me, I had to take a moment and recognize the work of art that it was. You all know me by now and how much I appreciate a beautiful plate presentation. I am used to having flan served on a flat plate with as the caramel would have solidified enough to not run on the plate. In this case, it was served in a bowl which allowed for the caramel to be a bit runnier thereby leaving the thicker textured flan to soak in all of the sweetness. On sweetness of the caramel, it was not overly sweet which I was thankful for but it did have some vanilla and had that truly rich "burned" flavor that a great flan caramel should always have. There were also blueberries and blackberries on the plate. I found that the blackberries emphasized the sweetness of the caramel (still not making it overbearing though) while the blueberries cut through the sweetness. I thought that to be interesting that both fruit brought the opposite of their flavors to the plate.